Whitley Capital's Haines City Rail Center To Include About 1 Million Square Feet Of Industrial Space
By J. KYLE FOSTER GROWTHSPOTTER | NOV 22, 2021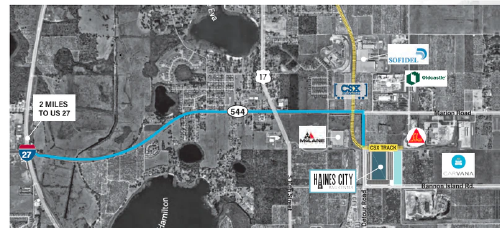 Whitley Capital is buying 80 acres on Bannon Island Road in Haines City that abuts the city-owned rail spur. (JLL)
For 16 years, the 2.8-mile rail spur Haines City built that links its industrial park to the CSX mainline has sat idle. That is finally about to change and the goal of cars on the spur is going to become a reality soon, developer Stephen Whitley and Economic Development Council President Cyndi Jantomaso told Whitley, principal at Whitley Capital, is buying 80 acres along Bannon Island Road that abuts the railroad tracks and plans to build two 500,000+ square foot facilities – one on each 40-acre parcel, he said. Joe Hills and Josh Lipoff with JLL are marketing the property with Whitley Capital, a privately held commercial real estate company. "It probably will be some kind of build-to-suit. We will build on spec – but we probably will land a tenant.," said Whitley. There is interest and JLL, Whitley and Jantomaso have been talking to several potential tenants.
Whitley Capital is planning a pair of cross-dock warehouse buildings in Haines City directly on the city's rail spur. (JLL)
"We have a few projects in the pipeline on Steve's property and other properties" the city is trying to make into an industrial park, Jantomaso said. Neither Whitley nor Jantomaso would name the potential tenants. Whitley said there has been some manufacturing interest, but he expects standard distribution companies to become the tenants. "Each company would utilize the rail to bring in their product or ship it out," Jantomaso said. "Rail is a little bit more expensive than trucking. We're putting together the pieces of companies that need rail. Either inbound or outbound. Right now, obviously with the supply chain going on and that lack of truck drivers right now, using rail is looking good to companies right now." American Trucking Associations' Chief Economist Bob Costello said the current driver shortage has risen to 80,000 – an all-time high for the industry. In a press release on Oct. 25, Costello said that based on driver demographic trends, including gender and age, as well as expected freight growth, the shortage could surpass 160,000 in 2030. That makes Haines City and CSX very attractive, say Whitley and Jantomaso.
The Haines City Rail Center is Whitley's first project in Polk County. Land, labor, and housing are less expensive than in Orange County, where most of his portfolio is located. And the Haines City government is supportive of the project and helpful, Whitley said. "It's the geographic center of the state. It has great road infrastructure as well as the rail," Whitley said. "The labor market there is very strong. … This project has one nice advantage it has the support of the local government, as opposed to permitting in Orange County" Whitley is scheduled to close on the land purchase around the end of this year and start construction in late spring or early summer 2022. Orlando-based C4 Architecture, known for its industrial design, is part of the project, he said. He wouldn't give a price yet for the land but Jantomaso said land in the area is going for $30,000 to $70,000 an acre with property on the rail spur pricing between $50,000 and $70,000. Haines City and the EDC are working to buy more land in the industrial area located off of Scenic Highway – SR 17 – to create a full industrial park, Jantomaso said. Among the companies already in area are an Aldi distribution center, Duke Energy, Carvana distribution center and Sofidel tissue paper distribution center. None of these use the rail, Jantomaso said. Chemical company Sika – the area's newest investor – bought more than 50 acres on the rail spur in the past year and expects to build a factory there in 3-5 years, she said. According to Polk County property records, Sika paid $3.75 million in August for 8 parcels in what is known as Tibbets Industrial Park between Tibbets Road, Detour Road and Hwy 544 East. "My mission in life before I retire is to put a car on that rail spur," Jantomaso said. "Steve and his team are going to be instrumental in helping me do that."