Support Our community take the SunRail Expansion to Polk County Survey
Monday, February 13, 2023 by Haines City EDC Staff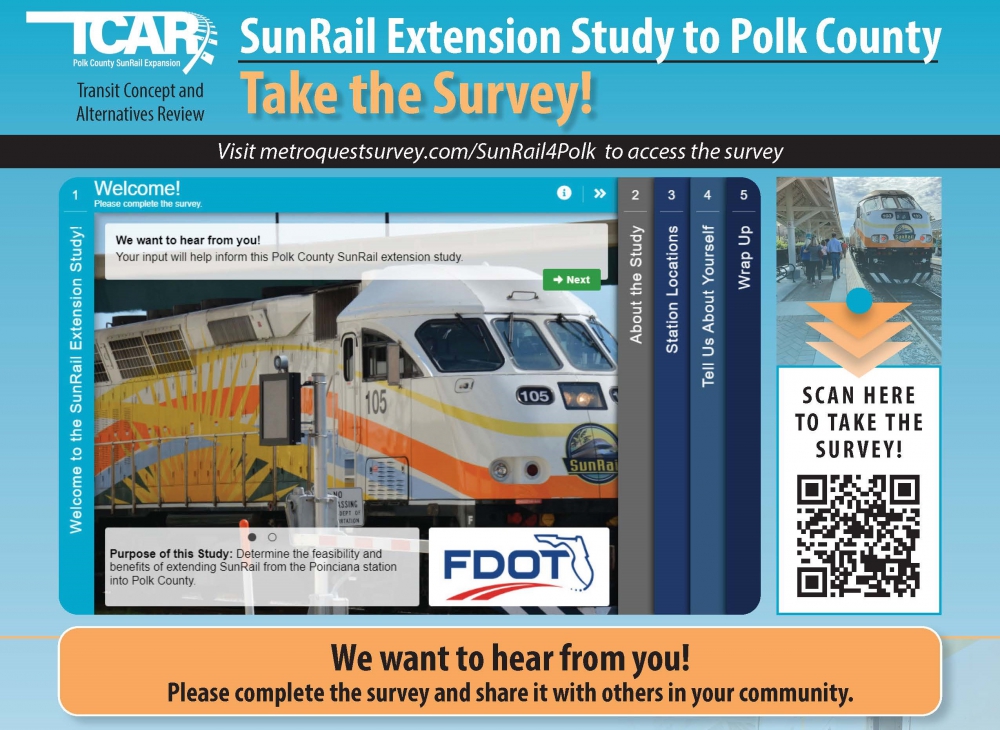 The Florida Department of Transportation is considering a major development in transportation in Polk County by exploring the potential of extending the SunRail commuter rail system into the area. With Haines City being identified as the initial stop, the Haines City Economic Development Council is encouraging the community to participate in determining the feasibility of this project by taking the FDOT survey to gather input from the community.
Cyndi Jantomaso, President and CEO of the Haines City Economic Development Council, emphasizes the benefits this expansion would bring, stating "The SunRail expansion into Polk County, with Haines City and Lakeland being the initial ideal stops, would offer a more convenient commute for our Northeast Polk residents. The study will poll potential riders to determine the best station locations for their needs."
SunRail, a commuter rail system that currently serves the Central Florida region, offers a cost-effective and convenient alternative to driving. With air-conditioned coaches and weekday service, as well as limited weekend service, SunRail provides a reliable mode of transportation for residents, commuters, and visitors alike. With multiple stops along the route, travelers can easily reach their destinations without dealing with the stress of traffic and parking. Additionally, SunRail's integration with local transportation systems such as buses and bike-sharing services provides seamless connections for easy travel throughout the area.
This extension of SunRail into Polk County has the potential to revolutionize transportation in the area, making it easier and more convenient for commuters to travel to and from work, as well as other destinations. The study will take into account important factors such as rider preferences, traffic patterns, and station locations to ensure that the final plan meets the needs of the community.
Join the conversation and help shape the future of transportation in Polk County by participating in the survey at (metroquestsurvey.com/Sunrail4polk). Learn more about this exciting development and its potential impact on Polk County and I-4 by reading the Tampa Bay Business Journal article. Don't miss the chance to have your voice heard and help bring the benefits of SunRail to your community.
---